Sour-sweet 5
In this difficult times Hungary and Poland was a bit lucky to be able to organize 2 European Championship rounds back-to-back weekends 28-30th August in Nyíregyegyháza, Levelek and 4-6th September in Elk. With loss of Portugal from the Calendar, the Junior World Championship also has been moved to this events. It was a great opportunity for both countries.
Gabor debuted his new QB Kommander GP1 1500 boat in Czez Republic one week ahead of the Continental Championship. There was very little time to setup and practice on the new machine. He made 2, DNF and 1 out of 3 motos.
The home event started really bright with finishing 4th behind factory Kommander rider Bossche in front, Ghoetals 2nd and Reiterer 3rd. After amazing starts the hopes broke down early crashing hard right after start. "I tried too hard and made big mistake despite of my top positions. I was able than to pass some riders and made my way back from last to 6th overall."
One week later Gabor repeated his performance finishing in Poland at the Mazurian Lakes. Little bad luck and engine troubles separeted him from podium finish. "I felt already on pole position, that i miss some power on mid-range. But still the engine was running, i had to give all i had. In moto i started great and i was running on 3rd but then redflag came out. 2 riders made massive jumpstart and the race director decided restart. Then it did not went well... " I slept the restart...i'm not happy! "The engine problems were getting serious." In moto 3 i finished 6th with broken piston. At least i finished. All-in-all it could turn out much much better but still managed 5th in the 2020 European Championship. Big thank You goes to my sponsors and my team. I will come back next year for sure! What i'm...i have to be very happy and proud of is my Junior Team unexpected performance! The kids did a great job and surprised the Aquabike World, coming from nowhere and finishing 2nd and 3rd in Ski Junior GP3.2 and GP3.3! What a year! It's nice to see that i did as a coach is working pretty well!"
Check all results on: UIM-ABP Aquabike World Championship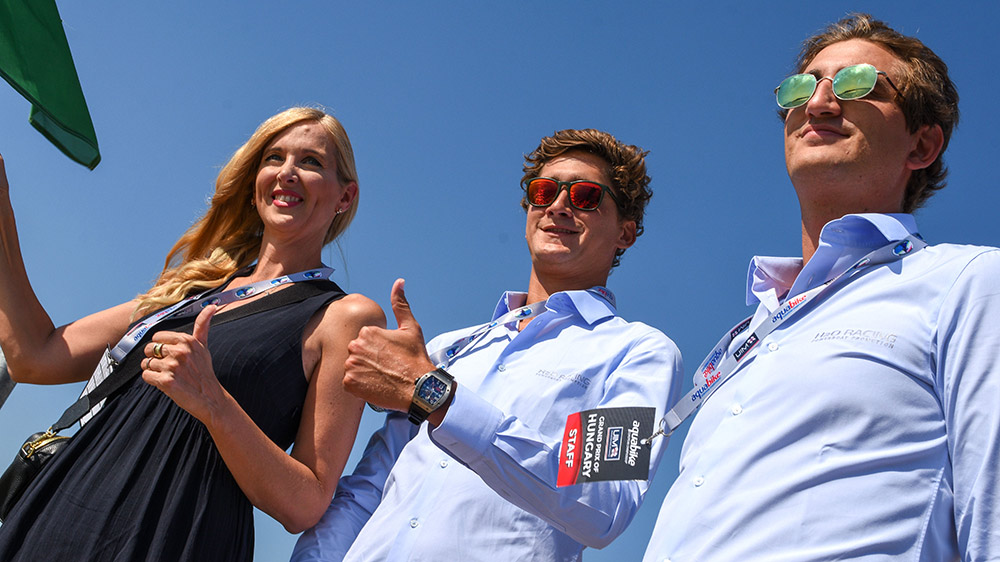 Sports Minister of Hungary wathching the race in Levelek with the promoters crew - L-R: Dr. Szabó Tünde, Raimondo di San Germano, Paolo di San Germano - Levelek, Hungary 2020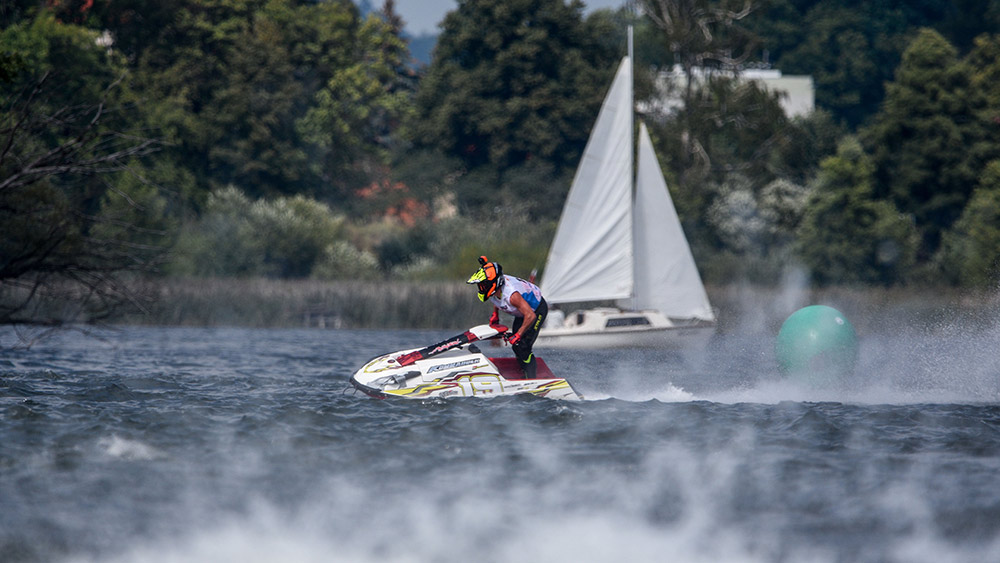 Running on Kommander GP1 custom built by QB98 Racing - Elk, Poland 2020
10/09/2020
RESTART
At the and of june the season started with local races. 2 times 2nd both in AAT round 1 Zagreb and National round 1 Ónod for Gábor. "I raced my 2019 Kawasaki SX-R 1500 added some new handling parts. The only one in front of me is my brother. I think very positive and looking forward to the international season what will happen."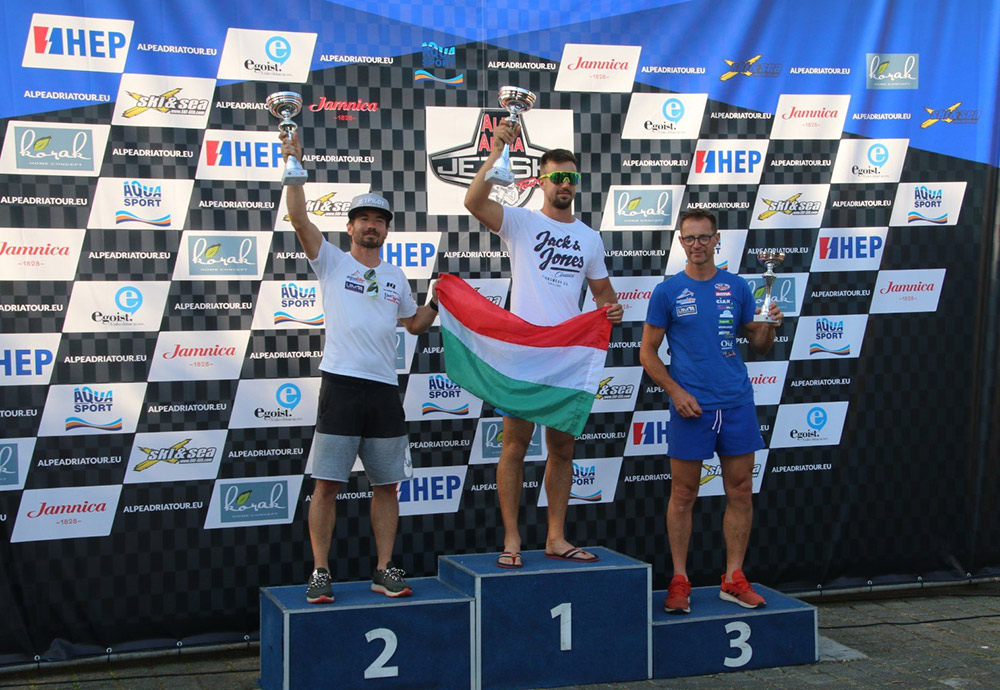 Podium SKI GP1 AAT Zagreb 2020: Gábor Szabó - Barnabás Szabó - Slaven Ivancic
06/07/2020
Panademic situation rescheludes the 2020 season
Unfortunatly the Covid 19 overwrites everything worlwide. It's the same with Aquabike. Portugese federation confirmed to cancel all events planned for this year, rest of the events postoned. Updates coming later.
15/04/2020
Season opener Kuwait City
The 2020 season started early in the year on 13-15th february with the new line-up. Gabor was ready to return racing. During the short offseason a deal was made between 2 brothers and Gabor handled away his brand new QB SX-R1500 to Barnie. "Barnie was feeling comfortable on the QB ski and put a lot effort in it. Find right set-ups and getting really fast on the boat. I will come out with something different!"-the older said.

This time for Gabor the 2017 racing machine left for Kuwait GP. He finished 12th overall and getting faster each and every moto.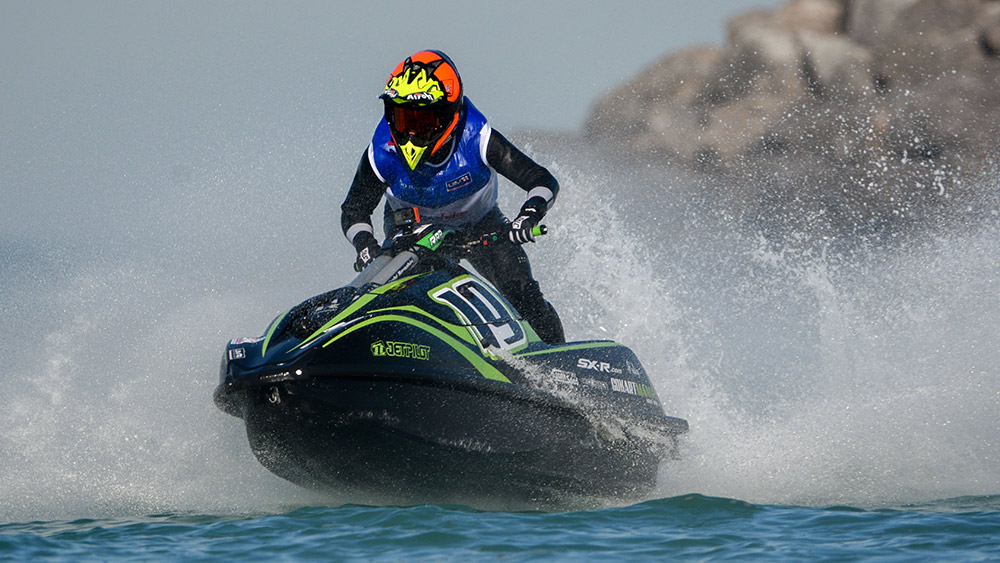 UIM Aquabike grand prix of Kuwait
16/02/2020
The new QB Racing SXR1500 debuts in China
The injured Gábor Szabó #19 will not race in Haier GP Qingdao, China. The backup rider Martin Sümegi #31 will replace him this weekend. The new developed QB Racing boat will debut by Team Rider Barnabás Szabó. "It's a missfurtune that I will not be able to race the new ski. But at the moment i just focus on healing to be able to return i Sharjah!"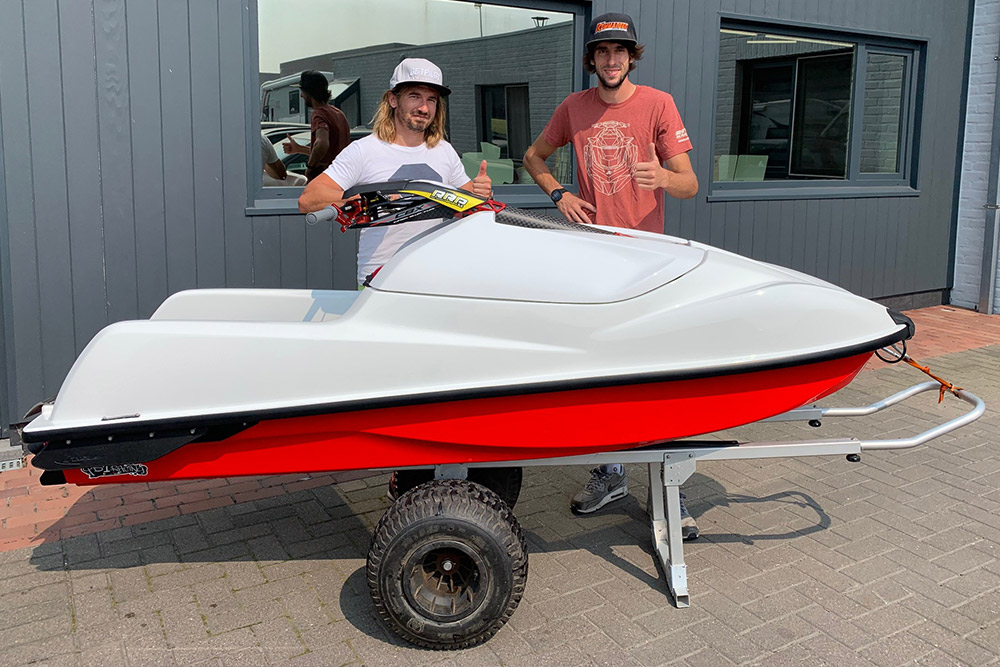 09/10/2019
First 2 rounds of the season are done! Set for next weekend, first round of UIM-ABP Aquabike World Championship in Portimao, Portugal.
After the long offseason the 2019 races started traditionally with Croatia, Alpe Adria Tour. Both of Szabo brother's finished on the podium in SKI GP1, Barnabas in front with Lukas Binar (CZ) between the two hungarian riders. "This was the first race this year. We had no opportunity to test some new parts before this race. But every moto i get faster wich is a good sign."- Gabor said.
The first 5 races are in 5 weeks. The AAT was followed by Grand Prix of Portugal in Penafiel. The European Championship was promising. 5th place on Quali, 5th on moto 1 and 2. Just a half lap separated Gabor from a 2nd place finish before starting to have fuel problems. Overall take nr. 7 and getting good speed out there with setting the 3rd best laptime on this weekend.
The UIM-ABP renewed Gabor's contract, he is Official Rider 2019 at the UIM-ABP Aquabike World Championship. Next step is back to back weekend in Portugal, 10-12 May Portimao.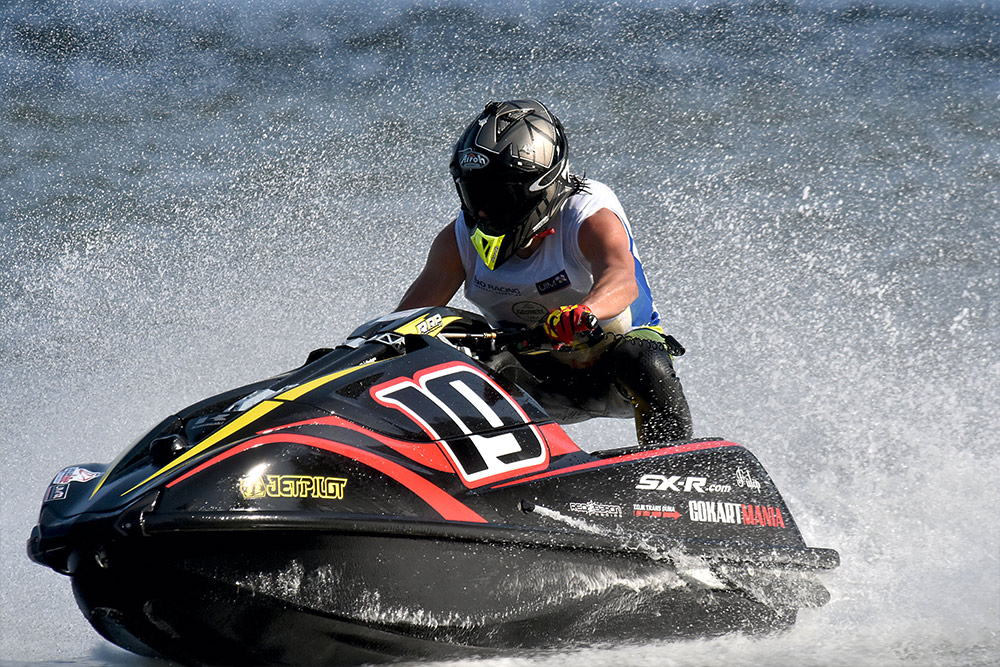 10/05/2019
BOTH CHINA ROUNDS AS DUBAI IS CANCELLED
The ABP-Aquabike World Championship has been shortened because of late cancellation of 3 rounds. Both China and Dubai were justified by 'unforseen political circumstances'. It is very hard for the riders but also for the organizers who have been doing everything to replace the locations but unfortunately they had no success. The next and the last round is Sharjah UEA, like usually spectacular show awaiting this time together with F1 Class!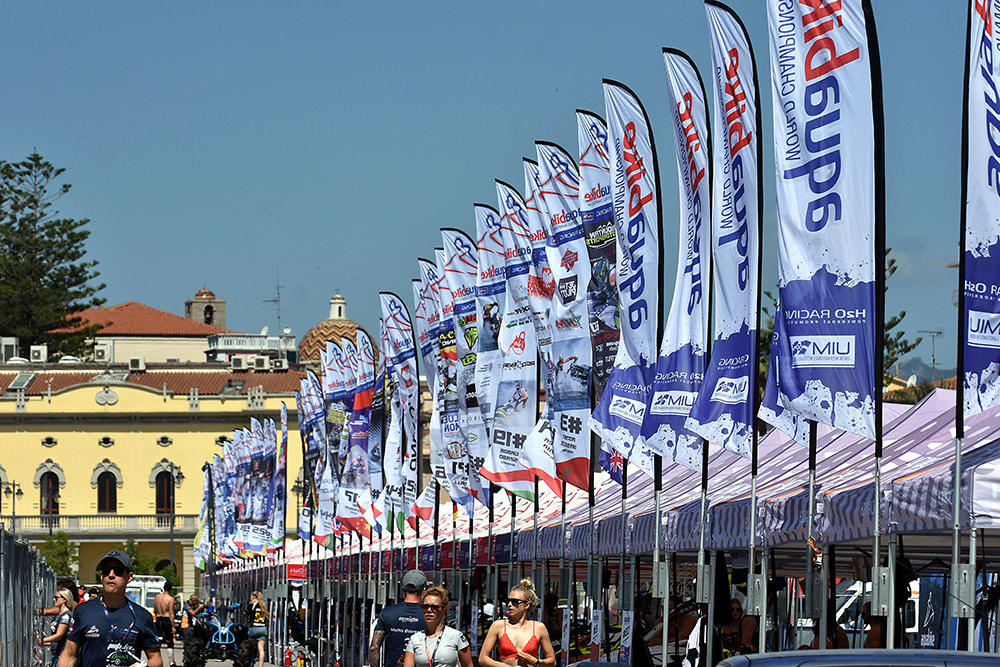 04/10/2018
Big expectations, less success…
Situation can be described like this after the italian rounds like this. The huge waves in Gallipoli did not help Gabor to have good results. After the disappointing 22nd place in pole position, he did better during the moto1. He was fighting for the 13th position, but maybe he pressured himself too much, and made a mistake on the finish line, he fell in the water. Moto 2 was even worse. After making an impressive start he was able to close to the top 10. After the holeshot int he backstraight he lost the ski again on a sidewave. No score this weekend.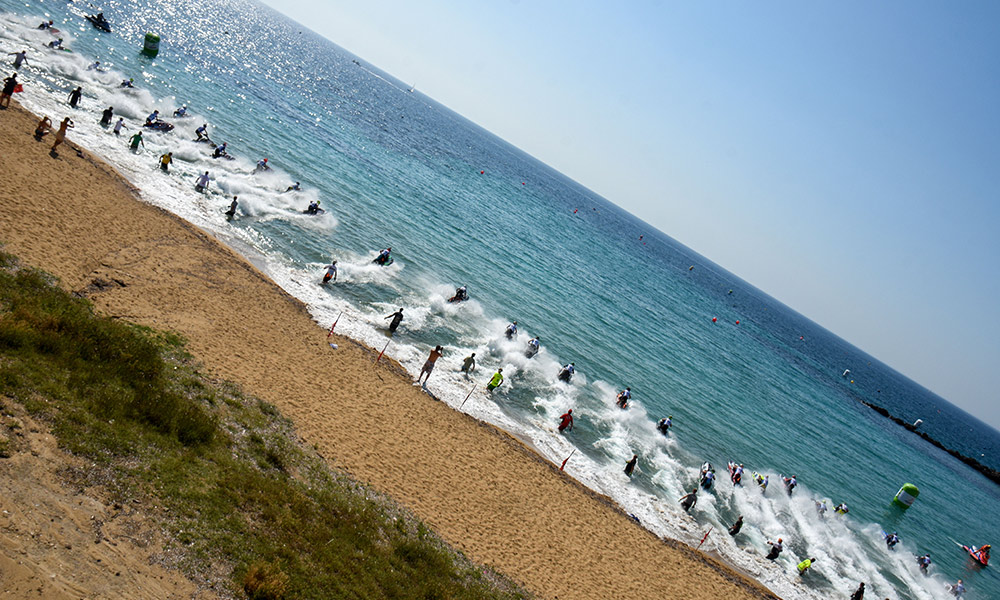 Maurin took the overall win over Reiterer and Micka Poret after Bossche lost his hood in the lead.
The 2nd round was held in Olbia on the beautiful island of Sardinia! This was a totally different location. Quite closed port area with sidewalls. These more or less saved riders from big opened sea waves but also made the way tricky between the walls. The pole position was much tighter and he finished only 17th out of 30 and only 2,5 seconds separating him from the 5th place... "It was another fail…I pushed myself too much as mentally as phisically. It was big traffic and i haven't find clear space to make a good lap."The poor moto1 was followed by a much more competitive moto 2 and he was making his way up to the 13th place but than in a bad moment Gabor found himself in the water again. "I had kind of mixed feelings. My bad performance and seeing my brother winning the SKI GP3 class World Title. I had nothing to lose and feeling free. I enjoyed every corner followed by passing mates but than I made a stupid mistake…again."
Reiterer's good luck returned as the season started for him with winning both moto's and taking the overall lead first time since 2015.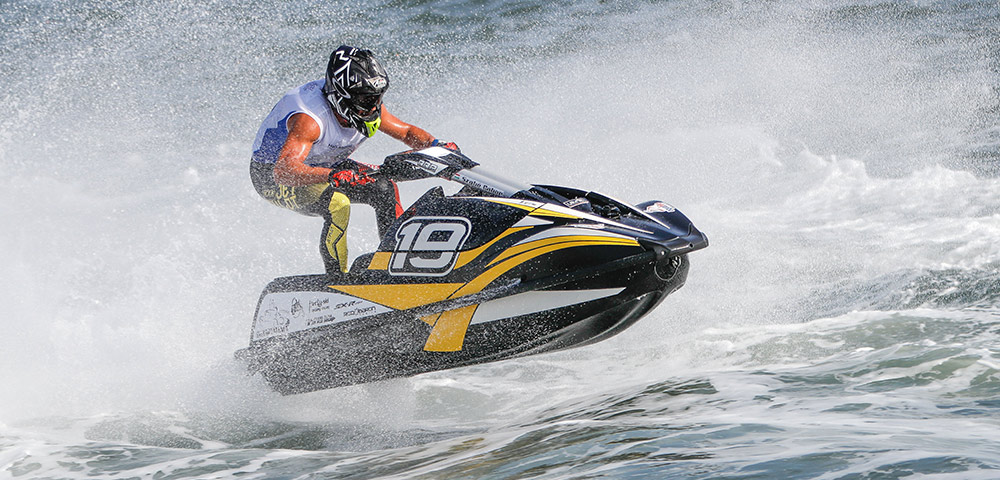 World Championship Standings:
1. Kevin Reiterer | AT | 95p
2. Raphael Maurin | FR | 81p
3. Mickael Poret | FR | 52p...
20. Barnabas Szabo | HU | 2p
23. Gabor Szabo | HU | 0p
03/10/2018
TIME HAS COME
1 day left to the opening round of the 2018 UIM-ABP Aquabike World Championship season. GP of Italy is located in Gallipoli, Puglia. The race going to held right in the beutiful historic oldtown! The starting format is 'beach start'! The first round is giving an option to non-contracted riders to get a wildcard for the 2018 season. This and the very high level of organization/competition causing a very high interest for the top level of jetski racing. Expected more than 80 riders from all over the world! Gabor -contracted for the 2nd consecutive year (currantly 12th in the world rankings)- talks about the upcoming season: 'I would like to continue where i have finished last year! Top 5! But i know it's not gonna be easy! I prefer more rolling start and left handed course. The pole position will be very important. If you are not under five…anything can happen! You get sixth on the line but easily fall to 15th on the holeshot! Either the Porets are missing, this will be one of my hardest race ever! I'm ready to race!'

24/05/2018
LIST OF OFFICIAL RIDERS 2018 UIM-ABP IS ANNOUNCED
After fantastic result (4th) in Sharjah at the final round of 2017 World Championship Gabor ensured his place in the top of the world! He signed the contract for 2018 UIM-ABP Aquabike World Championship as Official Rider in Ski Division GP1.
The crew will be the same except of the new Team Manager Dr. Laszlo Toth.
"I'm very motivated this year! My new Team Manager is a very experienced guy in motorsports and gives new spark to the team and me! I cannot wait to start the season! We stay on the same bike with a lot improvement! I'm pretty sure it's gonna be a very strong season!" – Gabor said
See full list of 2018 riders: https://www.aquabike.net/riders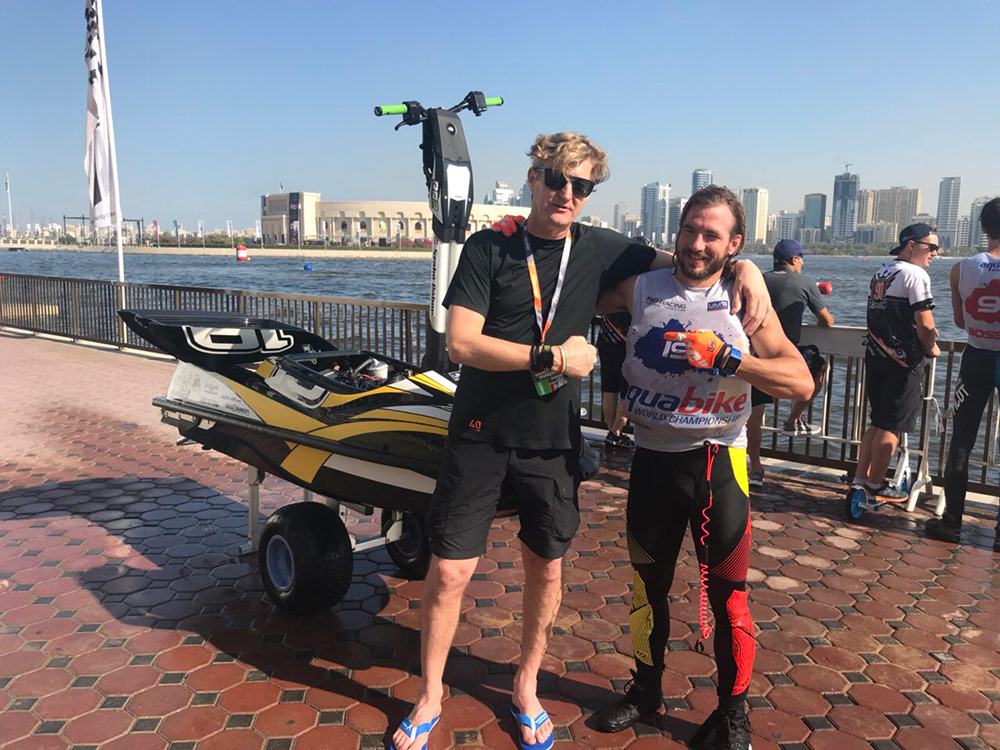 09/05/2018
Ready to race!
First round of the National Championship starts this weekend at Jetpower Lake Dunaharaszti! This lake located southly near to Budapest is 'hometown' of Kasza Racing and the legendary Jetpower team! But the reigning team in Ski Division is the Aktiv 80 JRT comes to take the SKI GP1/GP3 and SKI Gentleman GP1 classes! Team is the same as last year: Gabor Szabo #19 Ski GP1, Barnabas Szabo #28 Ski GP1/GP3, Martin Sümegi 31# Ski GP3, Zoltan Puskas #73 Ski GP3/Gentleman, Markus Erlach #100 Ski GP3, Christina Mahringer #101 Ski GP3
This year the multiple Hungarian Champion and Lake Havasu World Finals winner Gergely Jaranyi #2 joining the team who's one of the strongest runabout riders. He is competing in Runabout GP2.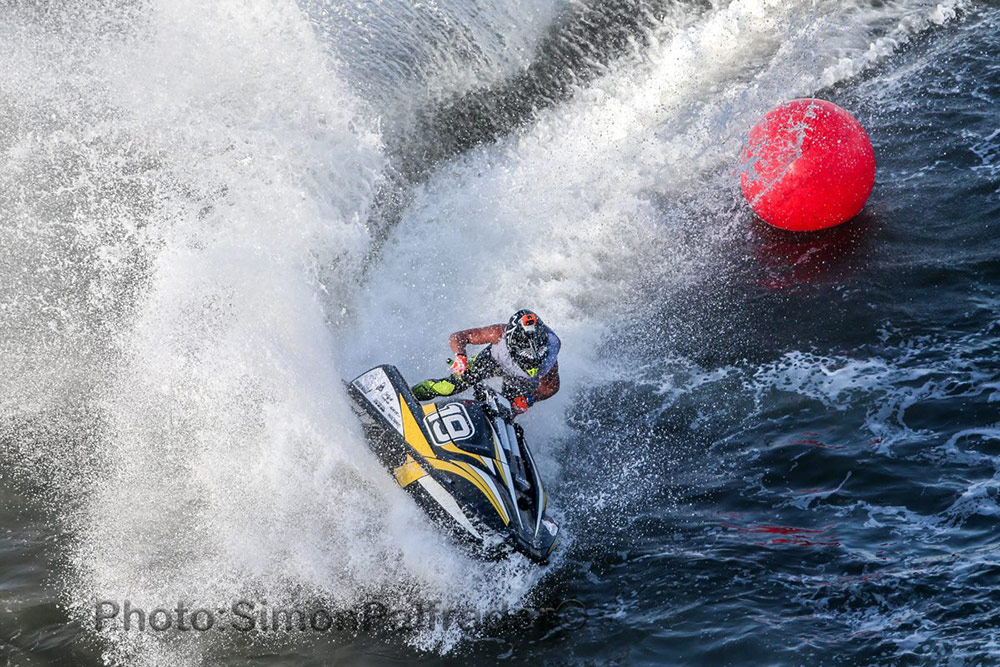 09/05/2018
New era started!
A new era started in jetski'n world! The new Kawasaki SXR 1500 seems to be the future! Gabor decided in the last moment before the race to switch from his lovely Bullet to the new boat: "I have mixed feelings...you can fight against but why? To be late? No! I said myself, if i would like to be on top i need to change as soon as possible!" The weekend in Porto Cesareo started on flat conditions. It was a bit disadvantegous against the 'old' skis wich have higher top speed right now. Gabor started on 15th and made his way to the 10th! Next day all has been changed.
Slight wind started to blow from south wich made the water rough! After great start of the race Gabor made a mistake on the back straightaway. He was able to hold the ski but than he was slowing down and finished only 14th wich means overall 12th to him. "I lost my rythem and i was fighting! I'm not happy but i'm looking forward to the next weekend in Vieste, the 2nd round of the UIM-ABP Aquabike World Championship!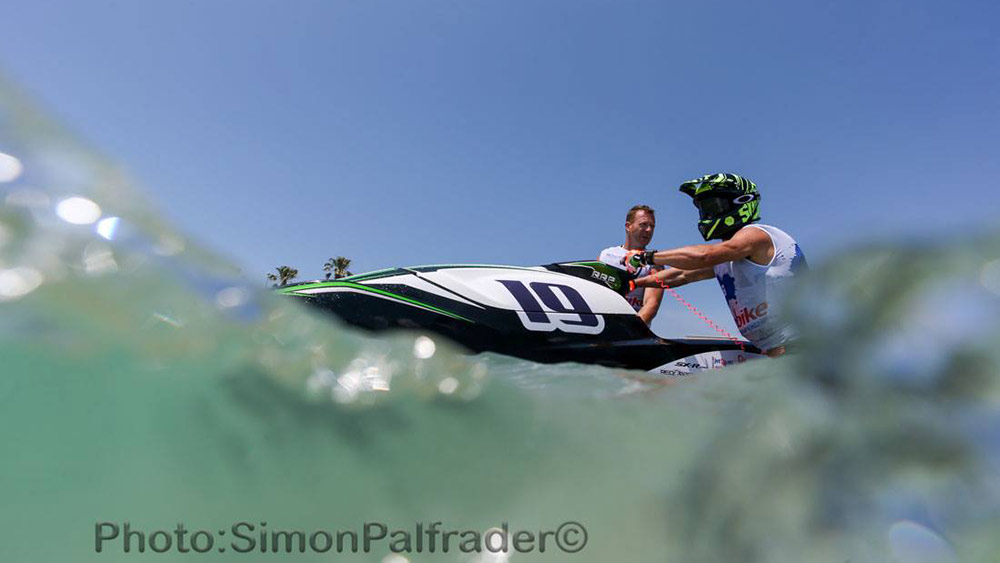 07/06/2017
2 weeks to Porto Cesareo
After two races and one more left before the first round of the 2017 UIM-ABP Aquabike World Championship in Porto Cesareo Italy and the following weekend the 2nd round on the Adriatic Sea coast in Vieste Italy Gabor Szabo started the season with podium finishes. First race of the Alpe Adria Tour was a solid 3rd place behind Lukas Binar CZ and Slaven Ivancic Croatia.
2 weeks later the first National one step forward, finished 2nd between teammates: Martin Sümegi on top and younger brother Barnabas Szabo on 3rd. "We tried some new setups and go totally wrong. In Croatia we expected flat conditions but was not. I raced with flat water setup and fighting hard with my boat. In Hungary i stepped back on my other ski but without high waves it was not the right decision. Anyway i saved as much points as i could and never do this mistake again!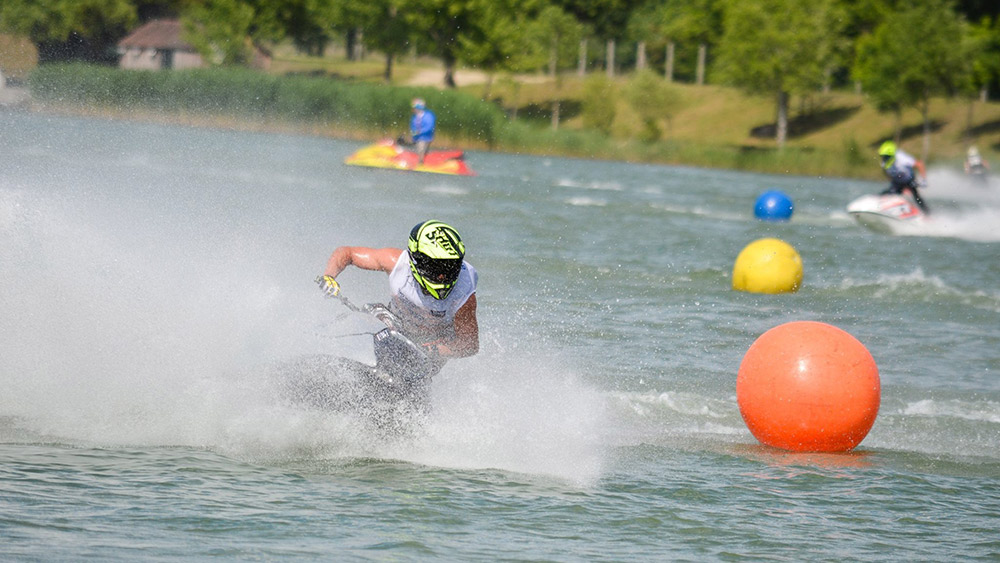 24/05/2017
UIM-ABP Aquabike World Championsip
The 2017 UIM-ABP World Championsip Ski Division Official Rider lineup is announced! 11 Nations, 16 Riders from all over the world! Read the hole article on the following link: UIM-ABP Aquabike World Championship
09/03/2017
First news
Contract is signed, Gabor Szabo is an Official Rider in the 2017 UIM-ABP World Championship! "This was my dream, to compete against the best riders on the world. I have been working hard through the years and now I'm facing the highest level of the sport! Best riders, best organization!" Follow the upcoming season with Gabor on Facebook, Twitter, Instagram!
27/02/2017